ExplainingTheFuture.com : Bioprinting →
Ray Kurzweil on the future workforce - The... →
Kurwell is optimistic on people being displaced by technology being able to find jobs. -JEM
Need a new pair of shoes? Print them - IOL SciTech... →
It is amazing how fast 3D printing is advancing.  Printing objects like shoes may be slow now, but printinting speed will accelerate.  Can't pass the background check for a pistol, no need to worry:http://printingjournal.blogspot.com/2012/09/3d-printed-guns-awesome-or-scary.html  -JEM
3 tags
The Blowback of Accelerating Technology
By James Mallett There is a saying, or just as likely a curse, that says: "May you live in interesting times."  Certainly the first decade of the twenty-first century was "interesting times."  9-11, bubbles in stock prices and real estate valuations, the Great Recession, wars in Afghanistan and Iraq, the ascent of developing nations such as China and India all made it a decade to remember.  My...
Black Swans and Golden Eggs
By James Mallett The term for a rare event of high impact that has come into common usage is to call the event a Back Swan.  This term comes from  Nassim Nicholas Taleb who published a book with that title (The Black Swan). Our attention in the past decade has tended to focus on the negative events of high impact such as the 9-11 attack and the recent great recession caused by the asset/credit...
I Made the Robot Do It - NYTimes.com →
It is difficult to believe that robotics will not raise structural unemployment.  Even skilled jobs won't be safe from AI advances. -JEM
PBS: Will Machines Make Human Workers Obsolete?... →
I am slightly optimistic that a solution will be found to provide people with jobs and access to most technological advances as time passes.  It is is the interest of everyone in society that we do so.  There is the possibility that the cyber-punk scifi writers will be correct and that we face a dystopian future.
Will Truckers Ditch Diesel for Natural Gas? -... →
A hopeful sign that cleaner fuels are moving forward. -JEM
Google Knowledge Graph: How It Changes Search -... →
More disruptive technology and in this case I mean in a good way. -JEM
Google's Project Glass: You ain't seen nothin' yet... →
'Absolute Black' Solar Panels Absorb Almost All... →
For robot-maker, the future is getting closer -... →
Ray Kurzweil Talks About 'Singularity' And... →
The author of this article expresses a very superficial idea what Kurzweil's concept of the Singularity is about.  The interview with Kurzweil clarifies his ideas as much as possible in a short article. -JEM
How Target Figured Out A Teen Girl Was Pregnant... →
In today's world, you are always a "target." -JEM
Drones With an Eye on the Public Cleared to Fly -... →
Big Data's Impact in the World - NYTimes.com →
"Big Data" another Golden Egg. -JEM
Facebook Is Using You - NYTimes.com →
It is not only Facebook but everything you email or put on the web.  Check out spokeo.com to see what I mean.  The problem is that a lot of what these data aggregators assume is not true.  Privacy is dead, long live Big Brother. :( -JEM
Will Artificial Intelligence be America's Next Big... →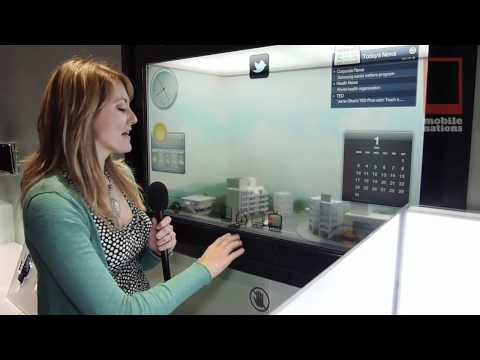 Google's Go-To AI Guy Sees Phones Getting Much... →
Spying on Your Buying | Marvels - WSJ.com →
The author's remark that the this new technology is to observe consumer behavior not change it is naive.  The goal of marketing is to change/manipulate behavior.  -JEM
Lie-Detection Software Is a Research Quest -... →
ASIMO Robot from Honda « econfuture | Future... →
Amazing advances in robotics. -JEM
Siri, Why Should Google and Microsoft Fear You? |... →
Siri is just the start of intelligent agents that will soon be ubiquitous on all internet connected devices.  Imagine being able to have an agent like Siri who is much more "intelligent" with access to many more data bases on your cell phone, tablet, PC, and TV. -JEM
The Next Frontier in Credit Scores: Predicting... →
Increasingly, firms may know more about you than you know about yourself. -JEM
Solar power is beginning to go mainstream -... →
Kurzweil Responds: Don't Underestimate the... →
With Siri, the iPhone Finds Its Voice | Product... →
Paul Allen: The Singularity Isn't Near -... →
Whether the Singularity is near or whether it will occur is not my concern in this blog.  What we can observe from the past and project to the next ten years is that technology will have a significant impact on the economy, financial markets, and our personal lives.  While I believe the overall impact is likely to be positive, the blowback effects of the accelerating technology will continue to...
Monkey Brain Control: The Future of Robotic... →
Very interesting implications to rapidly advancing machine/human combinations.  -JEM
How Did the Robot End Up With My Job? -... →
This article by Thomas Friedman is about the rapidly changing global economy and what is happening to jobs.  There are opportunities as well as problems facing people seeking careers.  Policy response by leaders in nations around the world will have a great impact on their workers. -JEM
It's Man vs. Machine and Man Is Losing - Real Time... →
This article points to why corporations invest in capital and not workers.  While productivity per worker is going up, the return is going to capital (capitalists) and not to labor.  This investment in capital explains why the median worker's income has been stagnant for nearly fifteen years.  With the acceleration of technology (robotics and other AI machines) don't look for dramatic...
IROS 2011 – The Robots Rule San Francisco |... →
Present state of robots from the Intelligent Robots and Systems conference. -JEM
Will robots steal your job? If you're highly... →
Globalization and technology has led to growing income/wealth inequality in the United States.  People in skilled professions, who have not suffered from drops in their incomes up till now, should not be complacent about what the impact of technology will have on their jobs in the next decade.  -JEM
Dr. Watson: How IBM's supercomputer could improve... →
AI machine like Watson will aid in the medical field and in other areas.  The same AI machines will replace many skilled jobs that humans now do.. - JEM 
Singularity VP Co-Authors Latest Adaptive Case... →
A Machine That Gives Shape to Your Ideas - Graphic... →
3-D printing. is moving along fast. -JEM
Goodbye Normal Blog
By James Mallett My purpose if this blog is to explore the role of accelerating technology and the impact of the effects on our society. Since I am an economist by training and a finance professor, my main focus will be on the economy and our financial system. Ray Kurzweil, author of the book The Singularity is Near, has been the leading proponent of the law of accelerating technology. A brief...
Remote Control War - Doc Zone | CBC-TV →
A follow up on my post on military robots. -JEM
New Drug Cures Multiple Viruses in Human Cells →
Will medical technology advance as fast as digital technology?  I have my doubts. -JEM
Singularity University graduates a class of tech... →
Singularity University will help bring the leaders we need to deal with the rapid technological change.  -JEM
Military Robots
http://www.marketwatch.com/video/asset/robot-show-gives-glimpse-into-defense-future/3290EDB0-8FA7-48A5-9C84-B85D652BE4BC One of the major areas of technological advance in the next ten years will be robots.  Two things that often drive technogical advance are pornography and the military.  The military use of robots is the focus of the video clip above.  War loses support in the US when troup...
GE Increases Stake in eSolar; New Brightsource... →
Twenty years after the Singularity | ZDNet UK →
Article should be titled "The Birth of the Singularity." -JEM
Why Facebook Facial Recognition is Creepy: Redux |... →
Goodbye privacy. -JEM
Top 5 Potential Cyber-enemies for the United... →
Renewable Energy Provided 11% of Domestic Energy... →
TheHotSpring.net | Blog | Solar Roadways to Power... →
Another example of how solar energy can provide much more of our power in the future. -JEM
Firm Nets $750K for 'Solar Parking Lot' - In... →
Google+: The Complete Guide →
Already using Google+? Follow Mashable News for the latest about the platform's new features, tips and tricks as well as our top social media and technology updates. Google+: It's the hot social network on the block. In just three weeks, Google's competitor to Facebook and Twitter has amassed …